Inofrmation about studying at TU Dortmund University
Exhibitions and Trade Fairs
TU Dortmund University is regularly represented at exhibitions and fairs and provides information about its degree programs.
TU Dortmund University at Messe Einstieg
The Einstieg trade fair took place in Dortmund on August 26 and 27, 2022. Germany's largest trade fair for high school graduates offers information and advice on all aspects of training, studying, career guidance, applications and much more. Numerous universities from Germany and abroad will provide information about their training and study programs.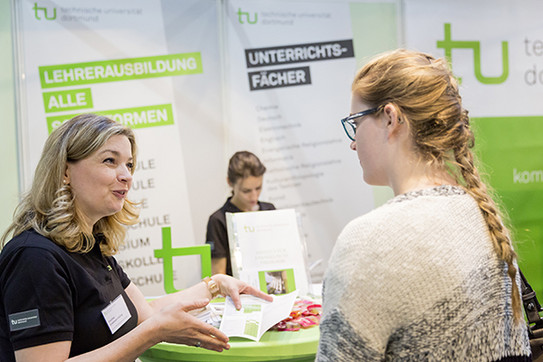 At the stand, employees of the Central Student Advisory Service and representatives of the faculties will be available to answer questions about the study programs offered at the Technische Universität Dortmund.
For more information about Einstieg Messe Dortmund, please click on the following link: Einstieg Dortmund
Trade fair Einstieg Dortmund 2022
Trade fair Einstieg Dortmund 2021